If you are planning a trip to Greece than you will need this Greek Street Food guide. Learn fast what you must eat in Athens and Greece while sightseing! When you visit Greece you will find out that breakfast is not very popular. Most Greeks grap a coffee and a tyropita (cheesepie) or a Koulouri and go to work. This is a common breakfast in Greece, so basically street food is the way most of us start the day with. As you understand street food is a big deal in Greece! Enjoy this guide and book a unique food tour in Athens!
Souvlaki the King of Greek Street Food
We are talking about one of the most famous dishes in Greece and the absolute street food. You can find it in every corner! So it is not very easy for you to avoid eating a souvlaki. We are taking about the ultimate king of Food in Greece! It has everything, salad (tomato and onions), greek yogurt, garlic, potatoes, pita and of course meat. With 5 eur max you can eat so much that you will not belive it. You can have it anyway you want and eveyrywhere. Pork, Chicken, lamp, beaf, kebab. WIth tzatziki or musturd. Choose gyros or kalamaki (meat on a stick). We have even made vegan souvlaki with mushrooms or halloumi cheese!
Koulouri the Greek snack
At the second place is a street food that there is not one Greek that has not eaten. We are talking about the Koulouri! You can find it in schools, bakeries, in the street, cafe, super markets… Well everywhere literally! You can eat it on its own or have a koulouri sanwich or with some cheese. Very tasty and the good ones are crunchy! Koulouri is a circular bread covered with sesame seeds. Thats it! Eat one and you will b ok for hours! We are talking for a 50 cents snack that you can buy everywhere!Buy a couple of koulouria and start your walking tours at the museums, the Acropolis, the monuments, the beaches!
Tyropita
At a close second position after koulouri is Tyropita. Pies are pretty big in Greecce. We make pies with and from enything. The most popular one is tyropita, the Greek cheese pie. With Feta cheese, gouda, graviera, kaseri you name it you can eat it. A very populat breakfast in Greece and a snack during the day. We have great cheeses in Greece so why not make a pie with them. Fan fact, pies in Greece are with filo. Filo or phyllo is a very thin unleavened dough. We use it to make both pastry and pies and we have many different kind of filo. Also we use it for baklava and for cheese pie (tyropita). Tyropita comes with several different filo like kourou, horiatiko, puff pastry and bougatsa. Just grab one!
Bougatsa
Bougatsa comes from Byzantine times and is most popular in Thessaloniki. But you find it all over Greece now. Now bougatsa is basically the filo, the filling can be anything you can think of. It is mostly known as a sweet bougatsa with cream served with cinamon and powder sugar. Also you can also eat it with mince meat or cheese. Ver tasty it is a close third!
Spanakopita the Vegan choice for Greek Street food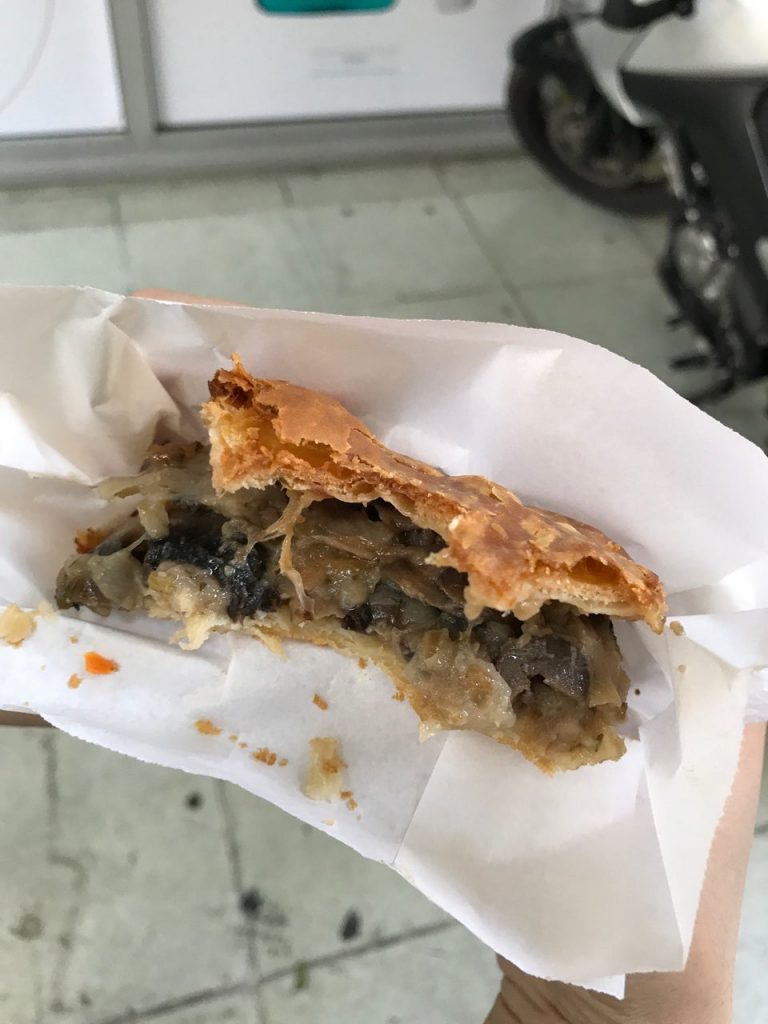 We have talked about bougatsa and tyropita. A close relative is spanakopita. This is a spinach pie with filo. Great choice for vegeterians. You can also find it with feta cheese so ask before you by it if you are a vegan.
Loukoumades the Greek Street Food dessert
One of the best desserts you will eat in Greece is Loukoumades. This food is like the Greek version of donoughts. You can find them in many places around the heart of Athens. It is a very famous Greek dessert and a pretty healthy one if you eat them with nuts and honey syrup. Also you can eat them with honey, praline or with ice cream. You usually it them after lunch or dinner.
You can taste everything in our Greek Street food guide if you book our amazing food tour!