Eating in Greece is a big part of your travel to our country. Visiting Greece must be a gastronomical experience! You must know what, when, and how to eat the best of Greek specialties! If you are planning a trip to Greece or Athens then you must get a fully local experience. This is a small guide about eating in Greece for all of you that are interested not only in Archaeology, Sun and Sea! There are several must-do and some don't, follow them, and prepare yourself for an unforgettable experience in Greece!
Eating in Greece, The Street Food
Souvlaki the world-famous Greek specialty!
I think that it is the most famous food in Greece. You can find it literally everywhere. On every corner, there is a shop that sells Souvlaki. This is the Absolut Greek Street food, the King of Food in Greece and extremely famous all over the world! If you are a heavy eater try to buy two souvlakia and you will be very full! With gyros (pork or chicken) with meat on a stick (chicken, pork, or Beef). You can even find it with lamb or with mushrooms or halloumi cheese if you are a vegetarian!
Eating in Greece is not so easy sometimes! Beware where you are in Greece so that you order it the right way. In Northern Greece when they say souvlaki they mean meat on a stick. In Athens and southern Greece, souvlaki is the whole wrap. Order "apo ola" (onion, tzatziki or mustard sauce, potatoes, tomato) and enjoy the cheapest and most delicious food in Greece!
Koulouri the Absolute snack
There is not one Greek that has not eaten Koulouri! It is the most popular snack in Greece every time during the day. Koulouri is a circular bread covered with sesame seeds. Εxtremely delicious and you will not get hungry for hours. You can have it for breakfast with some cheese or alone, as a snack before lunch or in the afternoon. You can find it in the streets, bakeries, coffee shops, even at supermarkets! For just 50 cents you have the perfect snack!
Spanakopita (spinach pie), the best pie in Greece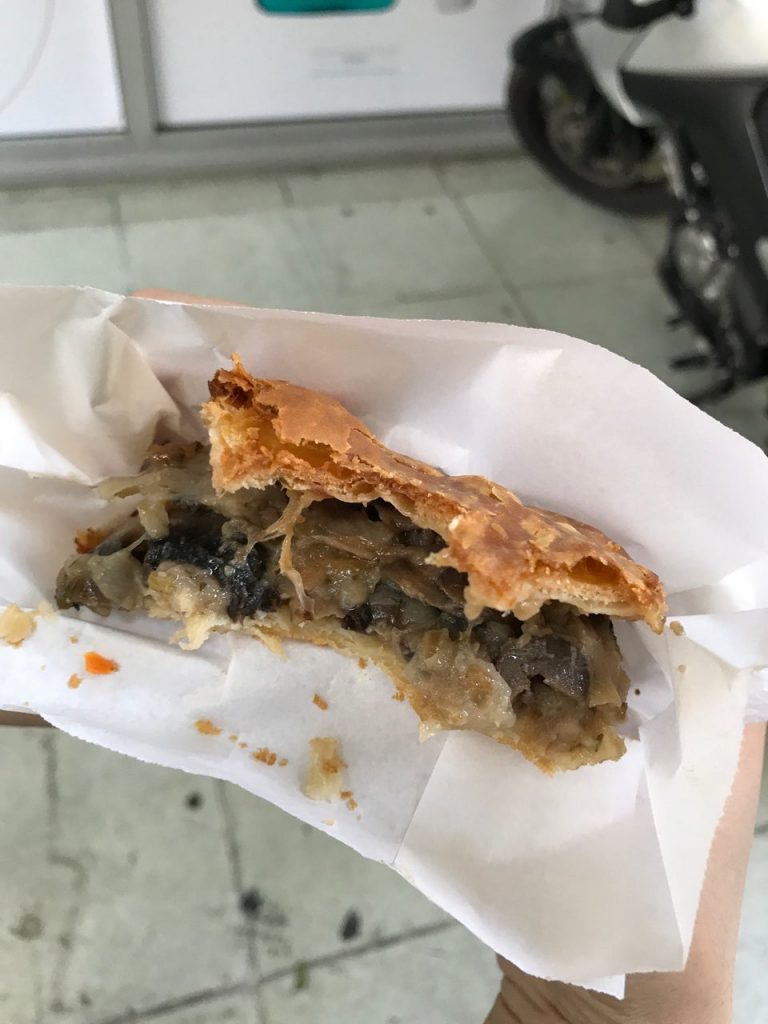 If you are strolling in the streets of Athens or any other city in Greece and you get hungry then you should try a spanakopita. Find a bakery and you will find the second-best of street food snacks in Greece. The pies! Eating in Greece requires that you will eat spanakopita. The Queen of all pies. You will also find tyropita (cheese pie), zampontyropita (ham, cheese, and tomato sauce), and many more. Pie is a Greek specialty and no matter where you are they have a different pie that they make locally! Just smell and your nose will be drawn by the smell of fresh-baked phyllo pastry!
If you want a sweet for a snack then loukoumades are what you are looking for. Not so easy to find them like the other choices but you can still find them everywhere in Greece. This is practically the Greek donuts. Fried and served with honey syrup and cinnamon and nuts if you like. You can also find them covered with Nutella. A great sweet snack that you must try while in Greece.
Eating in Greece, Traditional Greek Cuisine
Moussaka and Pastitsio
Probably the second most known Greek food all over the world. All you have to do is find a tavern and order this great dish. Béchamel, layers of mince and eggplant for the Moussaka and Bechamel, layers of mince, and Spaghetti for the Pastitsio.
Salads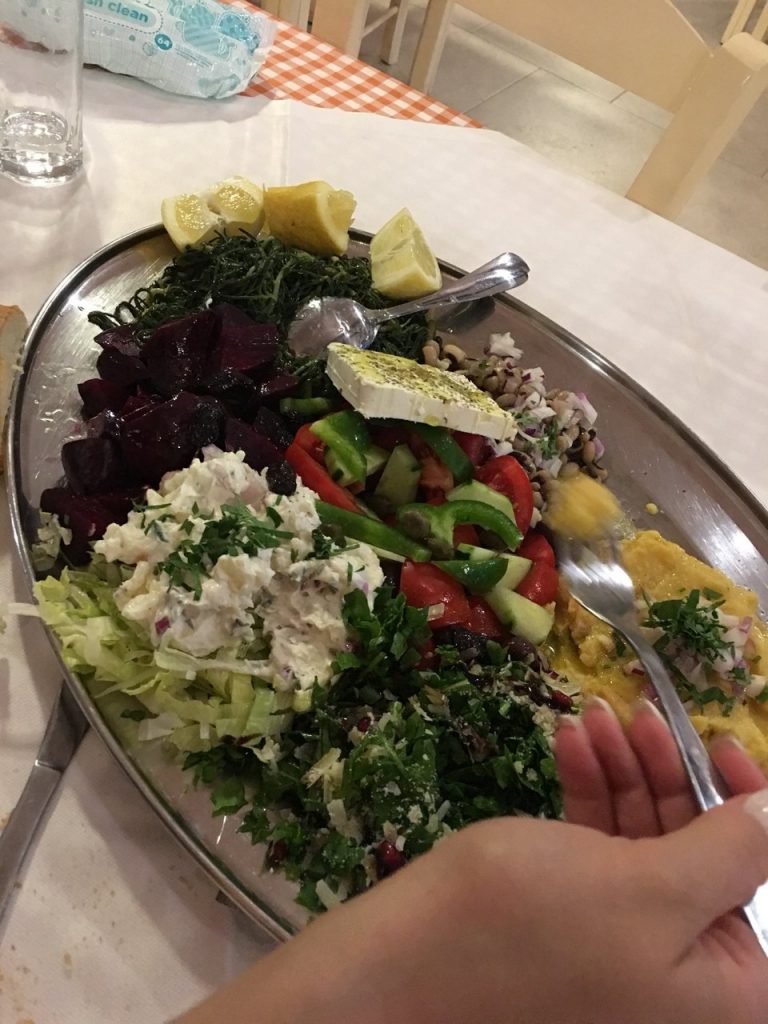 The Queen of all salads in Greece and abroad. The Greek Salad or Horiatiki as the locals call it. Tomatoes, cucumbers, olives, peppers, feta cheese, and olive oil with oregano! Now, this is a great salad.
Beetroot Salad/ Pantzarosalata
But we do not only eat Choriatiki. Another very popular salad in Greece is pantzarosalata or Beetroot salad. A very healthy salad with boiled beetroots and its leaves. Add some olive oil and vinegar or lemon and it is ready. Eat it with some fresh bread and it is a delicious dish for a starter.
Horta (Steamed weeds with Fresh Lemon Juice and Olive Oil)
Depending on the time of the year you will be able to taste several different weeds. "Horta" literally means weeds. Most of them if you are in the countryside would be picked at the mountains. Eating in Greece weeds includes wild spinach, fennel leaves, nettles, poppy leaves, dandelions, purslane, amaranth, and many, many more. You can have them with one or more than one variety in the salad. With a lot of olive oil and lemon, this salad is great to eat it cold.
Seafood
Grilled Octopus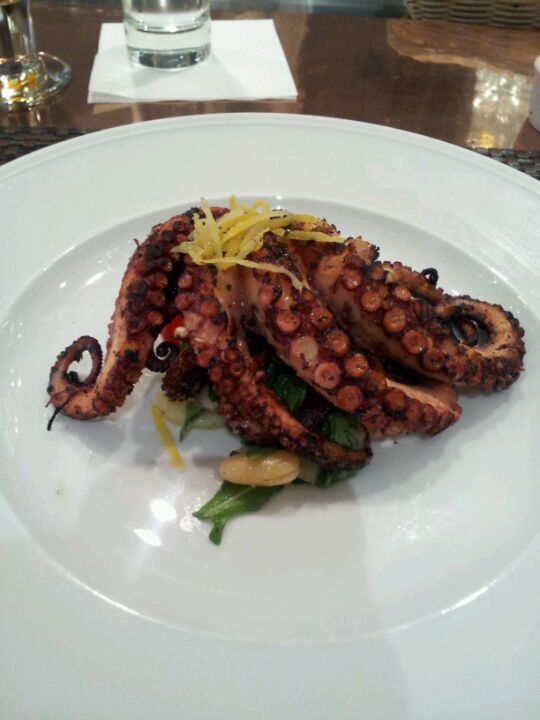 Where there are a sea and a tavern there is grilled octopus. A true delicacy with lemon and that is it. A great meze for ouzo or tsipouro to eat it by the Sea. We are though talking about one of the cleverest creatures on our planet that has been over hunted. I personally avoid eating for two reasons, the first is that I am sorry for them, and the second that it is extremely rare to find Greek octopus anymore. You will probably be served an octopus from India and believe me it does not taste the same way.
Greek Fried Squid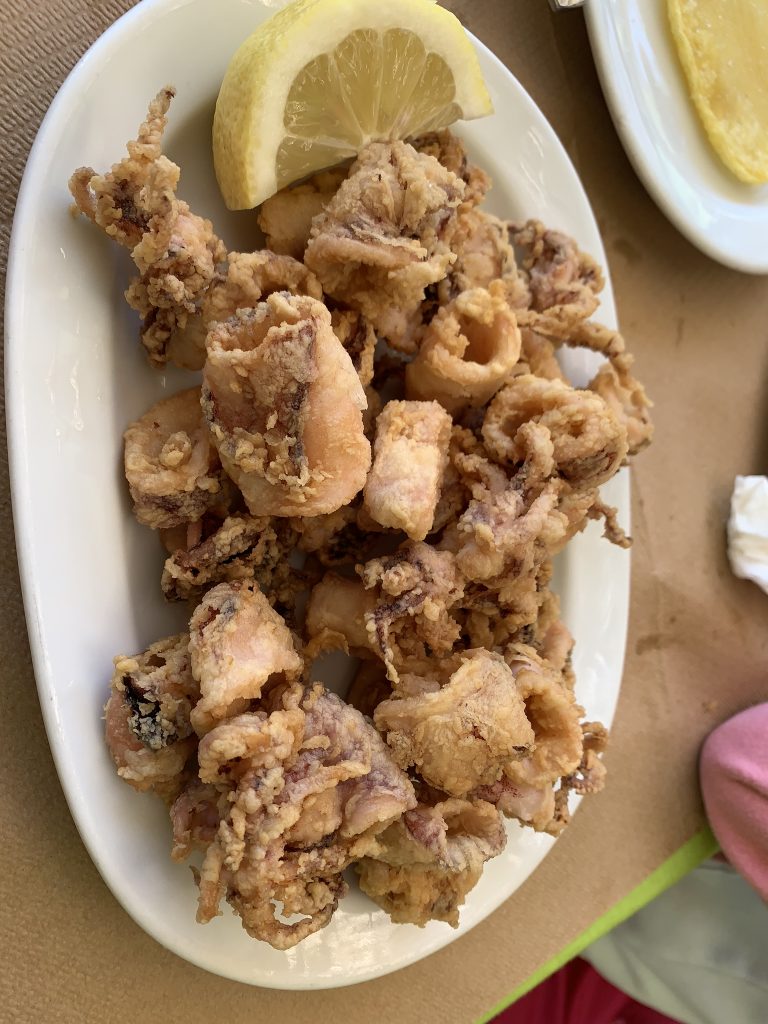 Another classic and popular dish at a Greek psarotaverna. Eating in Greece with locals usually means that you will go to a tavern by sea during the summer! Then you will order Greek Salad, Grilled octopus, fried Anchovies, and fried Squid. This is by far one of the most popular Greek dishes during the summertime. Just add some fresh lemon and do not forget to order some ouzo!
Fried Cod With Garlic Sauce
This dish is like a national plate when we are talking about fish. When there were no refrigerators this fish was the easiest solution. We use salty codfish that we soak in water in order to leach the salt. The sidedish is skordalia (mashed potatoes with garlic and olive oil).
Fried Barbounia (red mullet)
The best small fish that you will get. They are a little expensive since you will find them around 50-60 euros per kilo but trust me one kilo of barbounia is a lot for 2 persons. With half a kilo and some salad, you will be great. If you find koutsomoura (smaller and not so red) you can save some money without losing in taste.
We have a great food tour for you to taste some great specialties and of course several different pies. You can also combine it with a tour at the National Archaeological Museum. 
Ask around
Greeks are known for their hospitality since the ancient years. The ancient king of Gods, Zeus, was among other things the God of hospitality. So when you are in a strange place and you do not know where to go and where to eat. If you want to avoid the tourist traps, just find a local and ask him for advice. He will help you! This is not an urban myth. Greeks like helping people around!
The drinks
If you like alcohol then you are in the right country! Especially during the summer ouzo, mezedes and sea is the Greek way of living! Try ouzo and bare in mind that there are several different brands and each one has a slightly different taste. If you did not like ouzo then try tsipouro or tsikoudia or raki, depending on which part of Greece you are in. Without aniseed or aniseed with ice or without! Rakomelo is a must-try, it is tsipouro with honey! After your lunch or dinner, or on a cold winter day by the fire!