Are you planning a three day trip to Athens? You are at the right place. The Capital of Greece is a city that has everything! Archaeological sites of immense beauty, 5000 years old history, great shopping, amazing food and of course great nightlife. It is a little difficult to see everything in three days but if you organize your trip the right way then you can have a pretty good experience of the life and culture if the city! So if you plan your trip to Athens and need help, here we are to give you some tips on where to go and how to spend your time, avoiding tourist traps.
Where do I stay?
If you have made up your mind to visit Athens, then your next step is to decide where to stay. Athens is a very big city and your choices are many. If it is your first time you will probably want to visit Acropolis, Plaka, Monastiraki, Ancient Agora etc. The best choice for you is a city center hotel or a city center Airbnb. There are many choices and an area around Monastiraki, Koukaki, Makrygianni or Syntagma Square is the perfect location and walking distance from all the best of Athens. You will save time from site to site for a short three day trip to Athens.
Getting around in Athens
Athens is a pretty easy place to move around. There is a metro that will take you everywhere, buses, suburban railroad that will bring you from and to the airport. There is also a tram, Trolley and of course Taxi. You can download the app Beat (taxi app) and you can call and choose a taxi or a driver to get you where you want. You can also by a 3 day tourist tickets that will give you unlimited access to all transportation. Once in the Airport take the blue line that will get you either at Syntagma Square or Monastiraki, depending on where your accommodation is located. The ride from the Airport to city Center is around 45 minutes.
You can also rent a car but this is a good choice only if you are interested in getaways from Athens. You must remember though that parking in the center of the city is difficult and expensive. There is also a heavy traffic some hours during the day. It is not hell but it will take time to go outside Athens. Early morning and afternoon has the pick of the traffic.
Weather in Greece, pack carefully
In Greece we have a lot of Sun during the year but we do not have summer all the year. During winter it get pretty cold and rainy. When it is spring and autumn the weather is 80% of the time great for walking around not to warm and it does not rain so often. In the summer you will need very light clothes and pack a small umbrella for the Sun and the very rare rains that can fall in early June for example. You must have sunscreen with you and a hat during the summer months and avoid staying under sunlight for too long, if you are not used to it.
Shopping in Athens
No matter what your budget is you can have a lot of fun shopping in Athens. There are numerous choices for fashion from high quality brands at good prices. Beside the fashion there are great places you can visit and buy Greek products like olive oil, honey, wine, rusks, marmalades and organic products. We suggest that to arrange your itinerary in a way that gives you some time to rest, eat something and then start again! Always remember that there are great beaches all around Athens and it would be a good idea to visit them.
Trip to Athens Day 1
Wake up early in the morning have breakfast and start your tour to Acropolis. In summer after 11:00 it get pretty crowded to Acropolis so you better have an early start. The other months are not so busy but still an early start will give you time to visit more places and meet the locals. You can buy a 5-day pass for 30€ use it to visit a lot of archaeological sites including the Acropolis, the Ancient Agora and the Temple of Zeus. Have in mind that visiting Acropolis will take you around 2 hours and the Acropolis Museum 2-3:00 hours. You can stop for a coffee in the Acropolis museum or have a small snack to rest a little before going to the last floor.
Athens is a great place for families. The ancient Greek history and Mythology usually attracts the minds of the kids and a good guide is perfect for the stories they can tell in order to keep their interest.
Lunch and walking around Acropolis
After the Acropolis you can have lunch and walk around several places around the hill. All of them have different things for you to see and experience. You can go to Koukaki. This small neighborhood is perfect for you to catch a glimpse of the everyday life of modern Athenians. There is great options for food, street food, coffee, snacks you name it! Traditional, classic, souvlaki and more. We have a combined tour to Acropolis with a food tasting at Koukaki and lunch nearby! Try it and you will remember us!
Anafiotika – Plaka
Plaka is a nice small neighborhood, a part of the most beautiful place in the center of Athens. Right under the Acropolis hill, you can walk around the small roads and the oldest commercial street in Athens, Adrianou Str. In Plaka, there is the Choragic Monument of Lysicrates, in the honor of a wealthy patron of theatrical performances in the Theater of Dionysus. Your road will lead you to Anafiotika the scenic, picture-perfect and pretty touristic neighborhood. Otto the first King of modern Greece build the area using construction workers from the island of Anafi. This is how the neighborhood took the name and the place reminds a lot the islands of Greece. You can have lunch, snack, a sweet, a coffee but bear in mind that it is probably the most touristic place in Athens and there are a lot of tourist traps.
Trip to Athens Day 2
You can go with a taxi or a metro (Omonia Square) and visit the best Museum in Greece. The National Archaeological Museum hosts the most valuable artifacts of ancient Greece from across the country. It will take you around 2-3 hours to visit it depending to the pace you will have. From there you can walk back to Omonia, take Athinas Str., down to the Central Market of Athens. This museum should be visited with a guided tour in order to have all the info you need for the great collection of archaeological artifacts.
Take the metro from Omonia Square to Monastiraki. This is the second most known place in the city center. Monastiraki made its name with its flea market but there is much more that a flea market! A very well-known neighborhood in the old town of Athens. The Tzistarakis mosque stands over the square reminding the Athens' Ottoman rule. Today, the Mosque houses part of the Greek Museum of Folk Arts. Right next to the Square there are the large columns and ruins of the Roman Emperor Hadrian's Library and the Roman agora. You can find several ouzeri, coffee shops, small taverns, street food and many more. A great place to visit for dinner or for a beer at night. Just like Plaka and Anafiotika most of the places are for the tourists. But it is a great place to visit and just check for places with the most locals!
Psirri, Athens
Psirri is an alternative neighborhood in Athens and our guide would not be complete if we did not mention it. A great place to visit in the afternoon or at night. Small houses that turned into restaurants, bars, coffee shops etc. A lot of locals go to Psirri and eat at the mezedopolio (traditional taverns that serve meze, small dishes like tapas). You will also find several place for a sweet or an ice cream!
Trip to Athens Day 3
Depending on your mood and preferences there are many things you can do on day three of your three day trip to Athens. You can have a day trip to Cape Sounion and the Temple of Poseidon, to Marathon and the Marathon Lake and learn about the Origin of the Marathon run, to the Temple Of Artemis Brauron or visit some traditional wineries.
If you want to continue with the city center then there are a lot of places to visit. You can either get a City tour or walk around the city highlights. You can start your day buy visiting the great Athenian Trilogy on Panepistimiou Str.. The Trilogy is three neoclassical building side by side, the National Library of Greece, the University of Athens and the Academy of Athens. You can get there either from Syntagma Square or get the metro and get off at the Panepistimio station.
Syntagma Square, Center of Athens
The Syntagma Square is the central square of Athens and in front of the square is the Greek Parliament. You can watch the changing of the presidential guards that takes place once every hour. The military unit that are the presidential guards, are referred to as the Evzones or Tsoliades. This is a special unit of the Hellenic Army constituted in 1868 to guard the Monument of the Unknown Soldier in front of the Hellenic Parliament.
National Gardens and Zappeion
Next to the Greek parliament is one of the seven entrances of the National Gardens. Build by the wife of the first Modern Greek King Otto, remains open from sunrise to sunset. Enjoy the brief escape to nature, admire the impressive vegetation walking through the park. The National Gardens includes rare plants from all over the world. Then through the Park you will go to Zappeion, the imposing building in the middle of the gardens that houses important cultural events.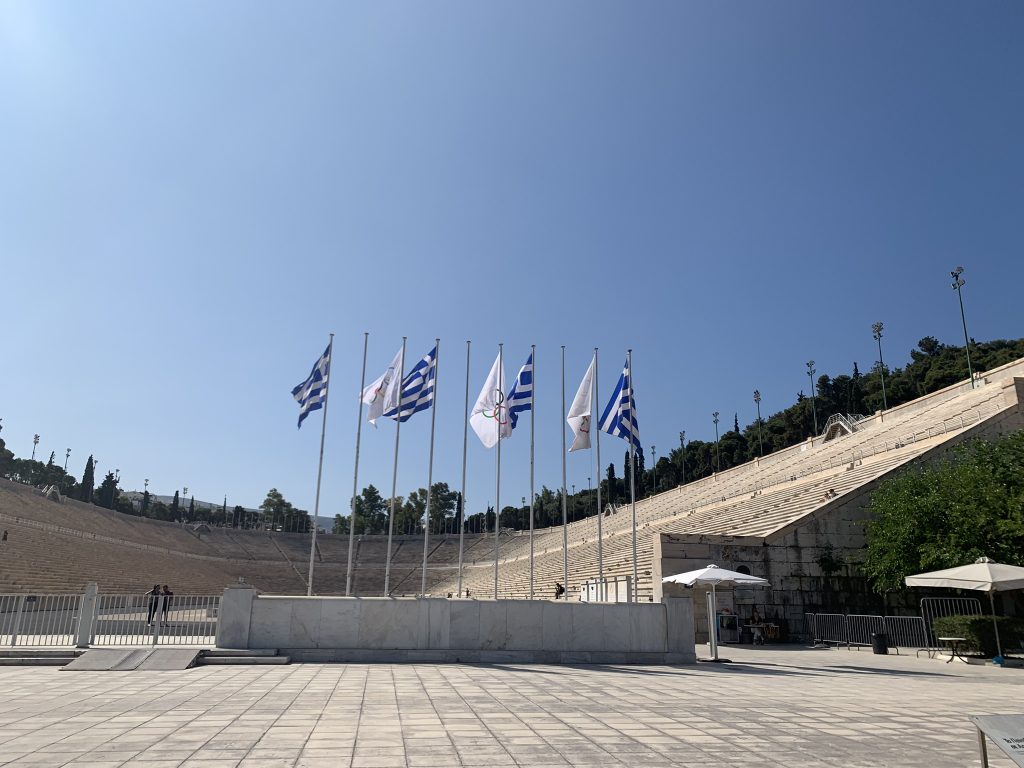 At the other side of the road from Zappeion you can see the Panathenaic Stadium. This ancient stadium was rebuild in order to host the first modern Olympic Games at 1896. It is a magnificent building made entirely with marble!
The best way to close your day is to have a food tour. A great way to learn and taste the food like locals do. Food is enormous in Greek Culture since the ancient times. Food in Greece is much more than Souvlaki and Mousaka. We like to eat a lot of seafood, lamp, pork, chicken, pies, salads and much more. Join the Tastes and Traditions of Athens food tour in Greece and I am sure that you will savior it forever!