Are you looking for trip planners for your vacations in Athens, Greece? Athens is a perfect destination for all the year. You can visit the world famous ancient monuments like Acropolis, Temple of Poseidon at Sounion, the National Archaeological Museum, Panathenaic Stadium and Ancient Agora of Athens. Are you looking for the off the beaten path Athens? Visit Temple of Artemis Vravrona or Marathon. Also, you can have a day trip to Delphi the land of Apollo, Mycenae the great kingdom of Agamemnon and the ancient theatre of Epidaurus.
First Time Travelers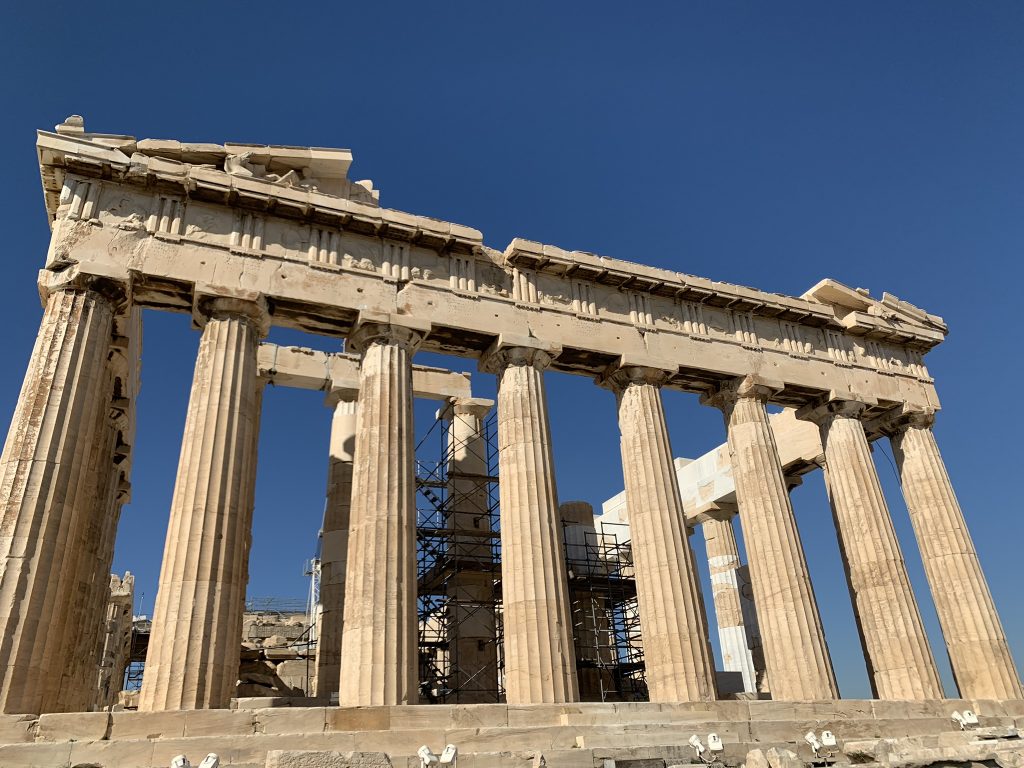 Depending of the time of the year and the days of your visit you can combine a lot of different monuments in Athens. It is very important that you decide the pace of you tours and what it is that you like more. If you are a first time traveler then Acropolis and Acropolis Museum must be the start. By all means when you visit Athens you have to climb the Acropolis hill. Altogether see the Parthenon, Erechtheion, Temple of Nike, Propylaea and Dionysus Theatre.
Related Tours:
Acropolis and Acropolis Museum Private Tour
Acropolis and Acropolis Museums evening Private Tour
Check all the Acropolis Tours!
Athens is a great destination to walk around the city and visit the archaeological sites. Even in the metro you can see exhibits of the ancient Greece! Temple of Zeus, Panathenaic Stadium, and the National Archaeological Museum is the second in line to see at the center of Athens. With the help of tour driver, your guide and the metro you can go anywhere you want.
Trip planners, Day Trips from Athens
The majestic Temple of Poseidon is a great day trip. Marvel the amazing Temple and the never ending view from Sounio. Enjoy the ride through the Athens Riviera and have lunch at a local tavern! Moreover it is a must have tour for first time travelers in Athens if they have two of three days in Athens. Marathon or Temple of Artemis Vravrona are two places that not many travelers visit even though they are very important places and have great monuments and museums.
Temple of Poseidon half Day private tour
Temple of Poseidon private tour with lunch
Sunset at Temple of Poseidon Tour
Private Tour Athens
With Private Tour Athens you can go, do and see anything having a personal guide. Also you will avoid the stress of organizing your vacations. Moreover, choosing shared or private tours are not always what they seem to be! For example there are a lot of tours that are practically only a transfer and no guide. Most important, you do not want to buy one of these tours. You are risking your vacations and your money! Ask a trip advisors or trip planners in Athens Greece and avoid all the tourist traps that can ruin your vacations!
Trip Planners, Off the Beaten Path
Get the best advice not only for the tours or hotels but also for restaurants, tavernas, routes in the city. Also who is going to tell you about the off beaten path places that you could be interested to visit. A local guide can give you insights to the great places to eat, relax, have a coffee or a drink! If you visit Athens and Greece you must have a local experience. Why not learn about the tastes and traditions of Athens with a great private or small group food tour in Athens. With attention to an olive oil tasting that will help you learn everything about this magnificent product!
There are a lot of places in Athens that travelers usually do not visit because they are not so known to the public. The off the beaten path tours worth your while and you will certainly love every minute you will spend. A tour to Marathon with lunch at a local taverna that there is no way you will find. Also, a tour to Temple of Artemis in Vravrona with lunch or with a visit at a local winery! Just ask for an amazing food tour outside the center of the city and eat and drink where the locals do everyday!
Food Tour in Athens
Greece and Athens are well known for their amazing food. Take the opportunity and have a food hopping tour in Athens and learn everything about the Greek cuisine! There are many things you can check before your visit so we have several food guides for you! Learn about the Greek Street food, the Greek Tavernas, Athens Greek Food and eating in Greece. 
In conclusion, a trip to Athens is a great idea and you will have an amazing time! All you need is to organize everything in the way you like and save money and time! Private Tour Athens or Greece trip planners are here to help you with everything you need! Athens is a unique place in Europe with amazing monuments, museums, beaches, mountains and trust us every spot beyond the typical known ones are hidden treasures!